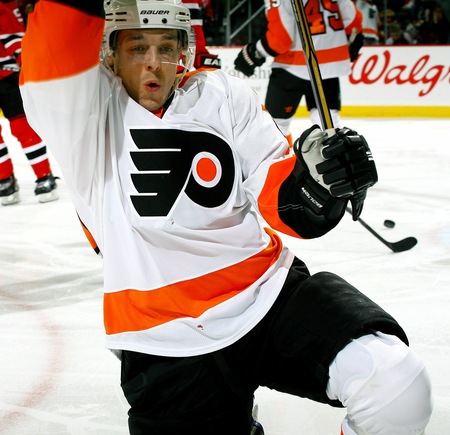 by Bob Herpen
Phanatic Hockey Editor

When it was all over, all you could hear was the roar of the crowd giving way to a torrent of voices all chanting one name in unison.

It drowned out the normal post-game interview the star of the game does with Coatesy. It drowned out the inner thoughts of the sellout crowd on Saturday afternoon. The cheer was so loud, for so long that it managed to push all thoughts of the Winter Classic loss and the defensive breakdowns on Thursday against Chicago out of mind.

At the center of it all was Daniel Briere, who picked up his fifth career hat trick on a wraparound goal with 5.3 seconds remaining in overtime, lifting the Philadelphia Flyers to a thrilling 3-2 victory over the Ottawa Senators.

In addition to the trifecta of tallies, the diminutive 34-year-old went toe-to-toe with the bigger Kyle Turris late in the second period to settle a score begun minutes earlier when the pair jostled at center ice.

"He did a good job in the fight. It gave our bench a lift. It was not a good second period for us," admitted Flyers head coach Peter Laviolette. "You know, we ended up comin' out stormin' in the third period. We weren't able to crack a goal right away, but certainly, I think it gave us a lift. He had a monster game, really."

Not lost in the sudden ending at the tail end of sudden death was a 35-save performance by Ilya Bryzgalov, who got his second consecutive start -- and his second consecutive victory.

Milan Michalek and Billy Butler tallied for Ottawa, which did a much better job of competing than in a 7-2 home loss to Philly back on October 18 but still came up short.

Craig Anderson was no slouch despite picking up the loss, making good on 36-of-39 shots for the Sens, who have risen to fifth spot in the Eastern Conference.

It was poetic justice for Briere that he won a game nobody expected, less than a week after coming up short in a situation where many expected him to influence the outcome.
Only six days ago, choppy ice prevented Briere from making a move sufficient to fool Rangers goaltender Henrik Ludqvist on a penalty shot in the final 20 seconds of an eventual 3-2 defeat.

But as time ticked away in OT on Saturday afternoon, he earned redemption, beating Anderson to the right post as he moved around the Ottawa cage and slipped the deciding goal home through a small space.

His first goal came through luck and persistence as well, a score which gave the hosts an early advantage.

Jakub Voracek rolled down the right-wing side and pulled up shy of the circle, finding Briere for an open chance on the left side. Though the first shot was flubbed, the speed fooled Anderson and his defense, leaving Briere alone in front to push his 11th goal of the year home at 11:05 of the first.

Michalek picked up the lone score in the middle period, tapping in a Sergei Gonchar blast on the doorstep only seven seconds after Matt Carle was busted for tripping which created a 27-second 5-on-3 advantage.

Then, the fireworks.

Briere and Turris clashed near the faceoff dot at center with 3:44 remaining in the second, with the former drawing an interference call and the latter a cross-checking minor despite clear evidence that Briere, at the bottom of the pileup, had been wronged more.

Still, note had been made and it was only 20 seconds after the coincidental minors expired that both decided to drop the gloves to the wonderment of the 19,792 in attendance.

That Briere held his own and could have been given a victory in the bout is no stretch. It
instantly ignited the crowd, which unleashed its first call by name as soon as he retired to the penalty box once more.

It will be an interesting sidebar in the back end of this home-and-home set at Scotiabank Place on Sunday evening.

Nonetheless, attrition and time caught up to the Flyers, as they failed to add onto their lead thanks to hitting no fewer than four posts through two periods and came up empty on back-to-back Ottawa bench minors in the first six minutes of the third.

It was Butler -- who drew the short straw and had to serve both penalties -- who put the Sens ahead by a 2-1 count at the 6:43 mark, outmuscling a tired Flyers defense and slipping the rebound of an Erik Karlsson blast through Bryzgalov.

Briere rose to the challenge for a second time in the contest, when his work in front with Sens defenseman Chris Phillips was rewarded as he managed to get a piece of his stick on a Kimmo Timonen wrist shot at 9:12.

The power-play score came thanks to a veteran blueliner who, despite getting hit twice in the same spot on his wrist, managed to play a near flawless game in almost 26 minutes of ice time.

Notes: Briere has engaged in only three career fights, but has totaled six goals in those games...The Flyers improved to 22-11-3 all-time at home against the Senators...Mike Knuble was the last Flyer to record a hat trick and account for all his team's goals, in a 3-0 decision on February 2, 2008 against Anaheim...Timonen and Sens defenseman Jared Cowan led all players with 25:45 TOI...Scott Hartnell participated in his 800th career game...The final tally for the Alumni Game, Winter Classic and AHL Outdoor Classic was 138,428 fans.